Max Gunstone recently completed a Level 3 Digital Marketing Apprenticeship at LMP Education, receiving a distinction grade following his end point assessment with TQUK.
An enthusiastic entrepreneur, Max found the role at LMP Education after searching for an opportunity that would give him real digital marketing experience and lots of variety.
He has been an integral part of the in-house marketing team at LMP Education for 18 months and has grown in confidence and ability over this period. He produced some outstanding work for the business and always put himself forward for tasks, often stepping out of his comfort zone. Max took an active role during National Apprenticeship Week 2023 and produced his own video to inspire others thinking of starting an apprenticeship – see Max's video here
On the subject of his learner journey Max said;
"I chose this apprenticeship programme because it was a great opportunity to gain marketing experience and a qualification in a field I was interested in.
There are so many benefits in doing an apprenticeship, but for me, the main one was having the opportunity to expand my skillset with hands-on experience and guidance from my mentor. Over the last year I have been constantly learning new things, doing lots of different tasks every day such as working on social media channels, preparing blogs, designing graphics and updating the company website.
The best thing about my role as a Digital Marketer is the team element, and feeling part of something that really makes a difference. I have experienced working in a functioning marketing team, and this made me passionate about doing my best work possible, so that the team can succeed.
During the apprenticeship, I have received lots of support ranging from colleagues in my team who I can always go to, and my manager who is always on hand to talk and is very open with me. I also benefitted from the support from my LMP tutor Veronique, who guided me through the whole journey, especially in the run up to end point assessment time.
I think a key skill for life I have learnt is communication, as in my role I talk with so many people ranging from colleagues to customers, I have learnt how to express myself professionally, give constructive feedback, and handle presenting my ideas to others. These are all skills for life that will be incredibly helpful in the future.
I'm hoping I can progress to the next level which could mean going to a higher-level apprenticeship where I can take more responsibility and learn more key skills."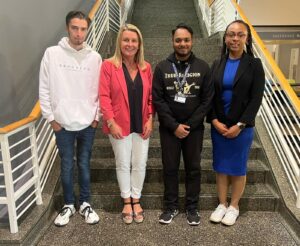 Feedback from TQUK End-Point Assessor included
"Max, you have submitted a strong Summative Portfolio that showcases your work well and was well aligned to the Digital Marketer Standard. It is clear that you have a comprehensive understanding of your role and the knowledge, skills and behaviours required of you to perform within it and effectively work towards the goals and vision of your organisation. You also nicely addressed some of the policies related to your role and industry and how these must be considered within your role.
Your attitude to work stood out for me and you have shown yourself to be someone who strives for quality in all aspects of your role. You understand and lean on your strengths in the role but also address any weaknesses and have shown that development in the role is important to you. Your work produced was excellent and your grade is well deserved, Max."
LMP Education Digital Marketing Tutor Veronique Enright also commented "During his apprenticeship, Max made outstanding progress in all the competencies of the qualification, showcasing the plethora of tools he used within his job role and the knowledge he gained during that time.
Max's strength is undeniably content creation, which he showcased in the creation of social media content and campaigns. Max's communication skills are second to none, treating everyone with respect and going above and beyond to support the team, embedding LMP's core values of Compassion, Taking Action, Be Inspiring and Ensuring Equality.
Max is a great listener and always took on board my constructive feedback, implementing the recommendations in his summative portfolio."
Well done to Max!
If you would like to find out more about Digital Marketing Apprenticeships, please contact the LMP team info@lmpeducation.org or visit https://lmp-group.co.uk/apprenticeships/ 
Contact