Mia Moloney – Digital Marketing Apprentice at Campari
National Apprenticeship Week 2023
Mia Moloney is a Level 3 Digital Marketing Apprentice at Campari UK. Her apprenticeship is provided through Inspire ATA, who recruited Mia to join the in-house marketing team at Campari UK. Inspire ATA is a flexi-job apprenticeship training agency. The training element of Mia's apprenticeship is delivered through sister organisation, LMP Education, and the feedback from her tutor is that she is an outstanding learner destined for great things.  
Mia is supported by her line manager Jisu Pang, Digital Marketing Manager at Campari UK who commented 'Mia has been with us for 6 months now and she has made the role her own. She has really taken on the challenge and has a hard work ethic, fresh thinking and creativity that is unique. She is learning skills for life and getting hands-on experience which I think is crucial for personal development.'
Here is Mia's apprenticeship journey so far
'My name is Mia Moloney and I am currently a Digital Marketing Apprentice for Campari UK in London. As I was studying for my A-Levels I realised University wasn't the right path for me, but I struggled to find other opportunities that would support my career aspirations in Digital Marketing. Inspire ATA's apprenticeship programme offered me the work experience I had hoped for, as well as training and education to support me along the way.
The balance of learning and gaining valuable work experience is something you'll rarely find outside of an apprenticeship. My programme gives me the benefit of developing my knowledge and skills in a practical and educational environment, which is the perfect balance for me. Not to mention the fact you're also earning a living wage! I always feel supported during my apprenticeship programme, so it feels less daunting than starting your average post-grad job. I have the Inspire ATA team and my host placement team at Campari to go to for any help or concerns.
The best thing about my digital marketing role is the opportunity for growth. As I progressed during my apprenticeship, my placement team is recognising my skills and constantly involving me in exciting, important projects. Because my growing skillset is valued, I'm finding myself with more frequent opportunities to work on new tasks, which subsequently develop my digital skills even further. The trust my colleagues and mentors have in me as a young, passionate employee, motivates me even further to learn more and grow as an apprentice.
My line manager at Inspire ATA is always there if I have any concerns with my programme, my host placement, or anything else that's affecting my work life. Luckily, I've rarely had any concerns to share.
My assessor at LMP Education helps guide me through the training and coursework in my apprenticeship programme. They've helped me understand what my programme entails, what work I should be completing, and constantly praise my progression. If I'm ever unsure of what training or coursework I should be completing, they are always there to reassure me.
Jisu Pang, my line manager at my host placement, Campari Group UK, is my biggest supporter. Not only do I receive designated training from LMP Education, but she is mentoring me every day through all general working practices. She gives me the balance of responsibility once I am confident in a new skill, while supporting me through other topics I'm not so confident in yet.
I would love to join Campari Group UK as an official employee after my programme. The team here is incredibly welcoming and supportive, and I've grown to love the company culture and brands I work with. The spirits industry is such an exciting and fast-paced environment, which feels like the perfect place for me. I'd like to remain in the Digital Marketing field but I could possibly branch out into brand management, or other areas of marketing, as this programme is providing me with all the knowledge and skills I need to do so.'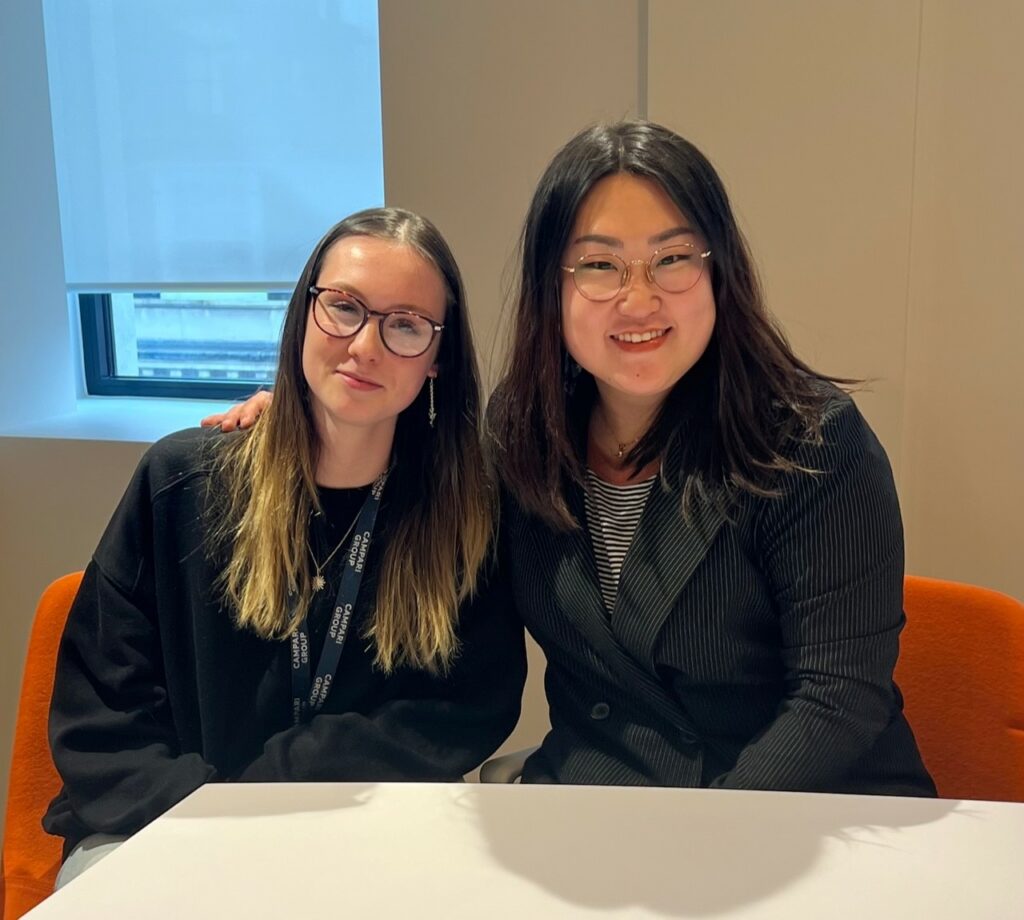 Thank you to Mia and the team at Campari UK for supporting National Apprenticeship Week 2023.
If you are interested in finding out more about flexi-job apprenticeships and the benefits for your organisations please contact the Inspire ATA team info@inspire-ata.co.uk or call 020 3836 4475.
Contact