The Energy Saving Trust is a leading and trusted organisation, dedicated to promoting energy efficiency, low carbon transport and sustainable energy use. As an employer their apprenticeship recruitment strategy enables them to invest in people and provide opportunities for development, training and growth. They have a number of apprentices employed throughout the organisation enabling them to grow their own talent and support social mobility.
We recently spoke to Rachel Menary from Energy Saving Trust to find out how more about their apprenticeship programmes are working.
'My name is Rachel Menary, and I am the Training Scheme Development Manager at Energy Saving Trust, an energy and carbon emission reduction organisation based across the UK. We have several apprentices working across our organisation, and we are proud to support National Apprenticeship Week 2023.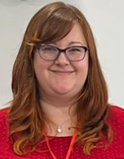 Recently I have been supporting Serwaa, who is a Level 3 Business Administration Apprentice in our Internal Communications and CEO Office. Serwaa took on the role of organiser and technical host and helped us deliver an online event for 500 members of staff, working with stakeholders across the organisation to arrange speakers and prepare content. During the event, she introduced speakers, moderated a Q&A, and moved slide decks.
Serwaa has also taken part in the organisation and delivery of our workshops at the Hammersmith and Fulham Food & Activities Programme and Climate Change and Sustainability Work experience events. These workshops were on climate change, assessing learners carbon footprints and supporting them to make empowered choices around their own energy usage and bills and gave an insight into what our apprenticeship programmes involve.
The benefits that apprentices bring to our business include willingness to get stuck in, and determination to ensure that things are done the right way. They also provide great support to other apprentices and colleges, which is really inspiring. Social mobility and growing our own talent in a cost-effective are also important. We have gained valuable qualified staff with a professional set of skills, knowledge and behaviours embedded from their apprenticeship pathway.

I would recommend working with LMP Education from an employer perspective as they have efficient account management, great delivery team, and access to local events to promote your apprenticeship vacancies.'
Thank you to Rachel and the team at Energy Saving Trust for supporting National Apprenticeship Week 2023.
If you are interested in finding out more about the Apprenticeship opportunities available visit https://lmp-group.co.uk/apprenticeships/ or contact info@lmpeducation.org to find out more.
Contact